Our History Began With Henry A. Berman in 1932
In the depths of the Great Depression, Henry A. Berman, a native of Boston who had moved to Worcester, struck out on his own to build a business that could sustain his young family. He bought the contents of houses, barns, old storefronts and railroad cars, and then called a public auction to sell the goods. The year was 1932, and the enterprise that is known today as Berman Property Solutions (formerly Berman Auctioneers & Appraisers and Henry A. Berman & Sons) was born.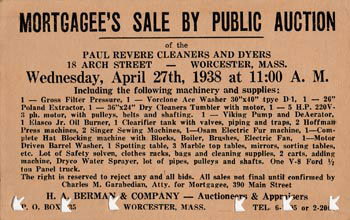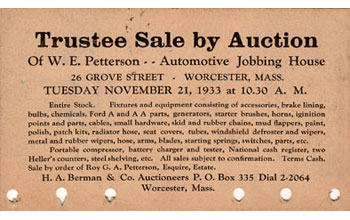 Through three-generations of family leadership, under Henry, his son Myron "Mike" Berman, and Myron's son-in-law Mark Shear, Berman Property Solutions has grown and evolved into a full-service asset valuation and disposition organization, helping families and businesses turn assets into cash in a timely manner. Since 1932, the company has sold thousands of pieces of real estate of all classes, and thousands of lots of commercial and personal property, at auctions and through traditional selling methods, throughout Central New England.